Welcome to the Leeds Microscopical
Society web site
Latest news....
Good news! The origami microscopes have arrived (unexpectedly early!) so we will now be running the session on the 23rd November. We will have 18 sets so there should hopefully be sufficient for one each. If you would like a preview of what's involved in their assembly, click here..
To view some of the views from our recent session on algal cultures, click here..
A 'Virtual bee dissection', a joint venture between LMS and Harrogate &

Ripon

Beekeepers Association is now available ..click here
We had a successful open meeting at Morley again this year. In the afternoon there was a beautiful video "Friends, Food, Forts and Families" produced by Gordon Fitton (click here) and a talk "Tooth Enamel (a woven rock)" by Roger Shore (click here)

The Society has received further funding from the Quekett - see below
A DIC stack image of a nail varnish leaf peel from the underside of an ivy leaf (provided by Mike Smith):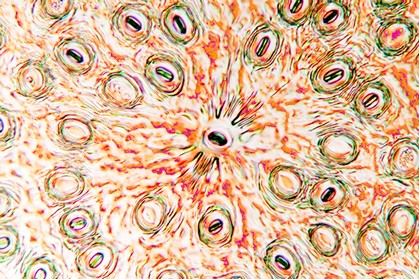 ____________________________________________________________
The Society has again received a further grant of £400 from the Quekett Microscopical Club. As on previous occasions, this is to be used in accordance with their charitable aims of promoting interest and education in microscopy. We are therefore in a position to continue to make our annual meeting at Morley free to all. In addition we can also retain our subscription rate at £5 per annum. "On behalf of the LMS and its members I would like to thank the Quekett for its continued generosity" - Mike Smith, Hon. Sec
____________________________________________________________
Slide library ...
The society has a library of zoological, botanical and mineral specimen slides, which can be examined either by stereo or compound microscope and are available on loan to members. The collection has been donated by members and is added to frequently - please contact John Ramsbottam
____________________________________________________________